We have been looking for the opportunity to expand into Auburn which happens to be where we reside. We are soo excited to announce that a new adorable shop is coming to Auburn and we are teaming up to offer you Fusion Mineral Paint. Located in the Gold Rush Plaza, Gracie Lane will be full of adorable home décor and everything you need to complete your next furniture flip. This location is full of character which will add to the ambiance. Look at that stunning brick wall! Don't you just love the look of brick? I sure do!! And this check out counter looks...
---
• Champlain • Coffee Table • fusion mineral paint
Such a darling coffee table which needed to be remade with some Fusion Mineral Paint. This table had seen better days. The finish was peeling and the cane was starting to lift. In fact, the previous owner had given up on it. After reattaching the cane, I prepped the table for paint. Using Fusion TSP Alternative always makes it easier as the cleaner does not have to be removed. I applied one coat of Champlain by Fusion. When painting over dark colors with light paint, it always takes several coats to get full coverage, so I decided my next coat...
---
We are so excited to share with you some very exciting news! Fusion Mineral Paint has launched 11 new colors! Eleven new colors! Eleven jaw dropping colors! Eleven beautiful colors! Before you run down to the store, let me tell you, these will be available in the store to purchase on July 17. Worried you can't there before your favorite color sells out? You can pre-purchase the paint on our website and I will ship it on July 15 or it will be available for pick up July 17 at Antique Trove. Now, let's take a look at these beautiful...
---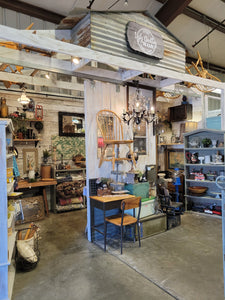 June was a difficult month. It started off great… we celebrate my husband's birthday and had a great show at Gypsy-Chic. Then, the day after we ended Gypsy we were notified that my father-in-law was in an auto accident and was air lifted to a hospital in Reno, Nevada. We packed up clothes and spent the next 5 days in Reno. We traveled 5 hours south to get his car out of impound, stayed in 4 different hotels and spent many hours sitting in a hospital room. We were very thankful he was physically doing very well however, came to...
---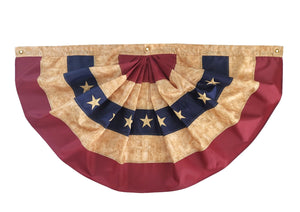 Show your patriotism and get your yard ready for the 4th of July!   This primitive bunting will be a great addition to your decor. Made from nylon, it will weather well outside. It measures 48" w x 24"h. These great looking bunting pieces are available here!