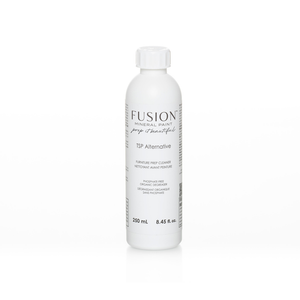 Fusion™ TSP Alternative is a water-based degreaser used to thoroughly clean a surface prior to applying paint. Highly efficient, it removes oil, grease, fingerprints, stains, and other contaminants which will improve the adhesion and the look of your finished painted surface. The easy-to-use no rinse formula is safe to use on all surfaces and contains no phosphates. It is highly concentrated so a little goes a long way.It is on sale online, June 13-19, 2022 and may be purchased HERE.
---
• odorless solvent • odourless solvent • product of the week
Looking to remove stubborn residue from your furniture? Fusion's Odourless Solvent works beautifully to break down buildup and is free from harmful toxic aromas, too! This solvent is 99.9% refined from toxic aromatics and is the purest form available on the market today. As an added bonus, this is great for cleaning your wax brushes, or brushes used with oil based products like Stain and Finishing Oil or Gel Stain & Top Coat. A must in your paint kit! HOW IT WORKS To remove wax and silicone based polishes from your furniture, apply either directly onto your piece by pouring...