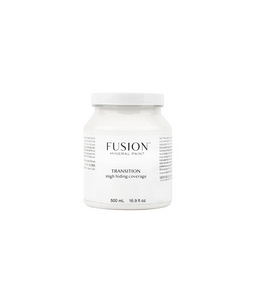 Fusion Mineral Paint
Transition
Regular price
$10.50
$0.00
Unit price
per
Made of recycled pigment Transition gives you high hiding coverage. The purpose of this product is to take you from a dark color to a light color in fewer coats of regular Fusion Mineral Paint.  Now if this product looks familiar to you, then you're right! Transition is in its third incarnation, formerly known as Concealer and before that Color Blocker. 
Transition doesn't have the same adhesion or durability as our regular Fusion Mineral Paint as it uses recycled pigments but that's why it's approximately half the price! Transition is not a primer and DOES NOT seal or block against resin or tannin bleed through, and should be used on surfaces ready and prepped. Be sure to use a Zinsser BIN shellac-based primer for bleed through concerns.

HOW TO USE TRANSITION
For best results use Transition in a sandwich technique between 2 coats of Fusion Mineral Paint. Only apply 1 coat of Transition. This is perfect for when you want to paint your dark wood a light colour. Since each batch is unique, shades will vary with production, but will always be a neutral light grey. This product will not only save you time but money too. 
CAN YOU USE IT AS ITS OWN PAINT COLOUR? 
It is not recommended to be used on its own as it does not contain the exact same adhesive and protective qualities as our high-grade Fusion Mineral Paint.
Help save the environment using our recycled Transition paint, 
Our eco-credentials have always been a huge part of our company ethos, from our non-toxic paint formula to our recycled plastic pots and packaging, we are proud to produce this eco-friendly paint.
Don't see what you are looking for? Additional products are available at 
Fusion Mineral Paint.
---