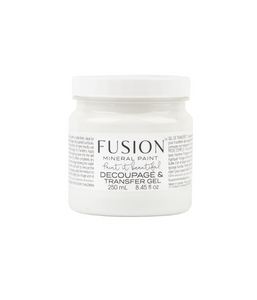 Fusion Mineral Paint
Decoupage and Transfer Gel
Regular price
$15.50
$0.00
Unit price
per
Try our Decoupage & Transfer Gel for incredible décor ideas! Create beautiful decoupage or transfer images onto virtually any surface. This two-in-one product is easy to use and allows for some beautiful effects.
How do I decoupage?
To decoupage, you want to essentially "glue" your material to your surface. You can apply the Gel onto the surface and place your material. Smooth it out or scrunch it up how you like it, and then for extra adhesion you can add another coat of Gel on top.
How do I transfer a photo?
For photo transfer, you need to make sure you use a laser printer. A lot of times you'll also want to reverse your photo before you print it, as it will apply backwards. Next, apply a bit of Gel to the front of the photo and to the surface you are transferring onto.
Don't see what you are looking for? Additional products are available at 
Fusion Mineral Paint.
---