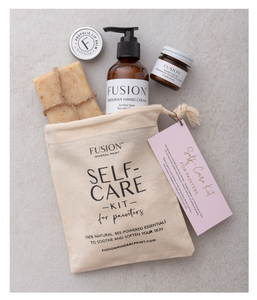 Fusion Mineral Paint
Self Care Kit
Regular price
$49.99
$0.00
Unit price
per
Dry hands from painting and washing? Our products will help to nourish your skin while preventing the paint from adhering - a pump of our Hand Cream will resist the paint from adhering making washing your hands easier on your skin. 

Indulge and pamper yourself with our high quality natural skin care products.
100% natural, eco-friendly bee-powered essentials to soothe and soften your skin
Inside: Lavender Propolis Soap, Beeswax Hand & Skin Cream, Natural Beeswax Lip Balm, and Propolis Salve. A treat for any DIY'er or painter.

Kit contains:
Beeswax Hand & Skin Cream
This luxuriously natural cream is made with ingredients designed to help soothe your skin. Apply to clean hands before painting to help prevent the paint from sticking to your hands, making clean up even easier. Use it two or three times a day and you will notice the improvement of your skin within a week. Mildly scented with natural essential oils of lavender and rosemary.
 
Natural Beeswax Lip Balm
Soothe dry or cracked lips with this natural lip balm, made with peppermint oil.

Propolis Salve
Propolis is a resinous mixture made by bees, and its benefits make it a wonder ingredient: anti-fungal, anti-bacterial, anti-inflammatory and antioxidant. We love using this salve on hands and wrists after a DIY session of painting. Great for cracking skin, cuticles, and more!

Lavender Propolis Soap
Lather up in luxury after a painting session with this gentle soap, made with soothing propolis, coconut oil, shea butter, and olive oil. Mildly scented with natural lavender essential oils.
Don't see what you are looking for? Additional products are available at Fusion Mineral Paint.
---